"The body and the space" is a show that brings together a collection of Gianni Colombo's most significant works made between 1959 – 1980 at the Robilant + Voena gallery, London. On reading the press release I was informed that; "Colombo's practice aimed at overcoming the traditional notion of art as an object to contemplate, in order to create work that requires the active involvement of the viewer." So prior to entering the gallery space I felt excitement at seeing work made over 30 years ago that evokes something that is sorely missing from the art world today, a physical relationship between viewers and art.
This feeling of excitement was slowly exchanged with a feeling of alienation as I entered the space. On entering the gallery I was met with a plush exterior of marble and stillness along with an overly polite steward who guided me around each piece with watchful eyes. In some ways this was an alternative gallery space, the beige walls and extravagant furnishings are worlds away from the conventional white cube. But instead of an exhibition curated to evoke relationships between viewers and art, this show successfully separated the audience whilst simultaneously turning kinetic art into conceptual artifacts.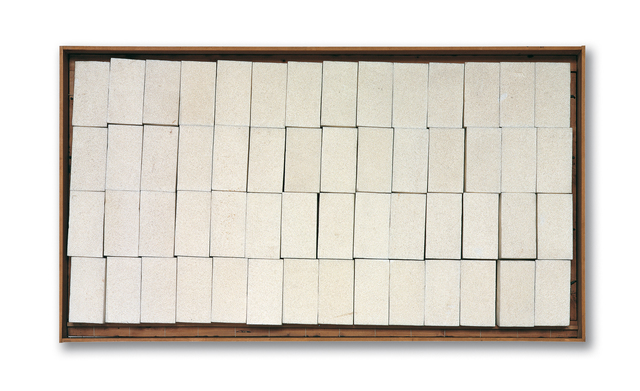 All of the works that use electronical mechanisms, such as; 'Strutturaziune fluida' and 'Robo optic', to release their kinetic potentials are turned on and off individually by the steward as, of course, they are in a fragile state. This staged interaction transforms works that were originally designed to "[change] the spectator's conventional relationship with reality, both physically and psychically" into relics held in a very wealthy museum. This dynamic between, viewer, work, steward and space denies the viewer of any reflective or intimate moments with the work, creating an awkward tension and inadequate presentation of the works incredible potential to engage viewers.
There was one space in this exhibition where this dialogue is allowed, and that is within Colombo's immersive installation; 'Topoestesia – tre zone contigue [itinerario programmato] (which translates to: 'Topoesthesia – three contiguous zones [programmed itinerary]'). This is where I really felt the effect of what Colombo had designed for me as a viewer, I was transported into an other worldly interior that had disorientated my senses in a way that can only be experienced to be understood. I feel that this theme of wonder and visceral experience would continue throughout the show if the works were shown in the way that they were intended to be.
Of course, the limited function and interaction of these works is not the fault of the gallery but by displaying these originals instead of re worked productions places too much importance on the artist rather than to the experience of the viewer. It is known that Gruppo T (the kinetic art group that Colombo formed), had their works produced as multiples as a way to "distance the works from the artworld's cult of the author." These ideals of Colombo's is something that I feel that this exhibitions curation ignores, thus creating an exhibition of incredibly exciting work that is made stagnant due to the importance placed on the items originality rather than it's kinetic potential to evoke real awe and experience in the viewer.